VMware Fusion Pro

Powerfully Simple Virtual Machine for Mac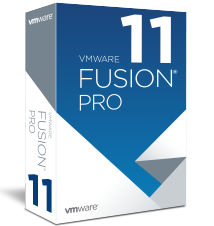 VMware Products
VMware Fusion Pro
VMware Fusion 11 Pro
#FUS11-PRO-C
Our Price: $159.99
More pricing below, click here!
Overview:
VMware Fusion Pro takes virtualization on the Mac to the next level with powerful features designed for advanced users, developers and IT admins. With leading edge desktop virtualization features and added cloud capabilities, VMware Fusion Pro delivers powerful virtual machines, superior performance and enhanced usability.
VMware Fusion Pro delivers Mac virtualization for advanced users and IT Pros, leading-edge features for developers, and is ideal for Macs in businesses that want to ensure compatibility with Windows.
Ready for macOS Mojave and the latest releases of Windows 10
Run nearly any operating system on the Mac without rebooting
Includes everything in VMware Fusion, plus:
Create linked clones to save time and disk space
Create custom virtual networking configurations to simulate complex web or cloud environments
Connect to vSphere to run, download or upload virtual machines
Create restricted virtual machines that can expire
Professionals Run Windows on Mac with Fusion Pro
Fusion Pro lets Mac users take advantage of Windows 10 features like the all new Edge browser, or strike up a conversation with Cortana, the all-new personal digital assistant, even while Fusion is running in the background. With support for over 200 operating systems including Windows 10, Fusion Pro delivers unsurpassed platform compatibility and integration with the VMware ecosystem.
Expiring Virtual Machines
For workers assigned to short-term projects, temporary employees, or for a software evaluation, create restricted virtual machines that expire at a predefined date and time. When powered on, the virtual machine will query the server at specified time intervals, storing the current system time in the restricted virtual machine's policy file as the last trusted timestamp. An expired virtual machine will automatically suspend and will not restart without administrator intervention.
Ready for the Future, Today
Fusion Pro is ready for OS X El Capitan. Install El Capitan in a virtual machine to test its new features, capabilities and compatibility with your applications without disrupting the host Mac. With under-the-hood performance improvements and overall smarter design, Fusion Pro and El Capitan together introduce new ways to be more productive while delivering a snappier and more fluid experience when running Windows on the Mac.
Take Fusion to the Cloud
Fusion Pro now provides a connection to VMware vCloud Air, as well as improving integration with vSphere, ESXi, and Workstation servers, allowing you to extend and scale your virtual machines in a compatible cloud. With a common platform powering the VMware ecosystem, Fusion Pro can easily connect to remote environments to launch, access console, upload or download virtual machines directly from your Mac. Fusion Pro also supports OVF import and export to leverage compatibility with industry standards. This allows technical professionals to work with local and remote virtual machines side by side for optimal flexibility, bringing the power of the vSphere data center and vCloud Air to the Mac.
Powerful Virtual Machines, Powerful Graphics.
Fusion Pro is optimized for the highest density 4K, 5K and Retina displays to give you a crisp and detailed view of your Windows applications. Experience more fluid graphics for every application with newly added DirectX 10 and OpenGL 3.3 capabilities. Everyday applications like Office, as well as highly demanding 3D applications such as AutoCAD and SOLIDWORKS, run more smoothly than ever. Create powerful virtual machines with up to 16 vCPUs, 8TB virtual disks, and up to 64 GB of memory to run the most demanding applications. You can also give graphics-intensive applications an additional boost by allocating up to 2GB of video memory to a virtual machine.  
Restricted Virtual Machines
Create and control policies around your virtual machines and deliver applications to end-users in a Fusion Pro restricted virtual machine container. Ensure corporate compliance by restricting access to virtual machine settings like drag-and-drop and cut-and-paste, disabling shared folders, and restricting access to USB devices. Restricted virtual machines are encrypted and password-protected to ensure that unauthorized users are unable to tamper with the corporate virtual machines settings, data, or the virtual machine itself.
Near-Native Performance
Built on top of VMware's enterprise-class 64-bit engine, Fusion Pro is engineered from the bottom up to deliver a near-native experience for your virtual environments. With a marked 3x performance increase for suspend and resume functions when working with encrypted volumes, you can restore secure Windows environments faster than ever. Whether you are doing CPU intensive operations like encryption/decryption, multimedia or code compilation, or if you are using Office and productivity applications day-to-day, Fusion Pro delivers maximum performance by leveraging the latest in Mac hardware technology, faster PCIe-based storage and overall greater power and efficiency under the hood.
Build Complex Virtual Networks
With improved IPv6 support, including IPv6 Network Address Translation, you can create more complex networking topologies. Add and remove virtual IPv4 or IPv6 networks and create custom virtual networking configurations, ideal for testing and demonstration environments without impacting the Mac's network configuration. With updated networking controls and compatibility with the VMware ecosystem, Fusion Pro users can recreate complex cloud architectures right on the Mac to validate design before implementation.
Built for Developers
Fusion Pro speaks to developers with powerful integrations from the most innovative software technologies. Easily push workloads into the cloud from Fusion Pro with vCloud Air integration or deploy a VMware Project Photon virtual machine to run containers from Docker, rkt or Garden, ensuring maximum compatibility with the VMware ecosystem. Use modern tools such as Chef, Hashicorp Vagrant or docker-machine to automate virtual machine and container deployment, or build Universal apps for Windows 10 devices without ever leaving the Mac.
Snapshots and Linked Clones
With Fusion Pro it's easy to safeguard and protect virtual machines. The Snapshot feature preserves the state of a virtual machine so users can return to it at any time, allowing users to upgrade to new operating systems like Windows 10 without any risk. The Clone feature makes duplicating Fusion Pro virtual machines easy. Full or Linked clones allow you to make unlimited copies of a virtual machine from an installation and configuration baseline. Linked clones are the fastest, easiest, and most efficient way to duplicate complex setups for testing and custom demos.
Simplify License Management
Buying and managing Fusion Pro licenses is easy. Purchase licenses in volume and configure them so your end users are productive using Windows on a Mac from their first power-on. Use the My VMware licensing portal to easily manage all your license keys and support entitlements. Merge license keys together, break them apart or downgrade them to an earlier release, as you see fit.
Take Fusion on the Go
With up to 65% improved performance with OpenGL applications, and up to 15% improvement for DirectX 9, Fusion Pro takes full advantage of the powerful hardware found in the latest Macs. For MacBook Pros with a discrete and an integrated GPU, Fusion Pro will automatically use the most appropriate GPU depending on the task at hand, activating the more powerful discrete GPU for demanding 3D applications or using the integrated GPU when performing day-to-day tasks. For added control users can manually specify the GPU to use, or let Fusion Pro automatically decide, providing you the best performance while least impacting your battery life. Your virtual machine is automatically suspended when you close the lid, preventing any battery drain while you're on the go. With advanced resolution handling and display topology detection, you can trust that when your MacBook, MacBook Air or MacBook Pro is connected to an external display that Windows will look as crisp as can be. If your Mac has a native Retina display or is connected to a 4K display, you'll get a seamless experience even when running virtual machines across Retina and non-Retina displays.
Plugged in to Your World
Enhancements for applications such as Skype or Microsoft Lync enable Macs equipped with a FaceTime or iSight camera to conduct high-quality video conferences within a Windows virtual machine. Fusion Pro also enables fast file transfer with USB 3.0 support, supports HD audio with 5.1 surround sound, and supports Bluetooth 4.0 wireless technology.
Enable Macs in Business
IT organizations today can take advantage of the BYOD trend by providing internal users with approved corporate Windows desktops as secure, policy-based virtual machines. Take a new approach to delivering IT-blessed desktops to end-user Macs by using restricted virtual machines with VMware Fusion Pro. Enforce corporate security policy-based capabilities such as encryption, virtual machine lease times or expiration, or even prevent users from modifying the virtual machine's internals or configuration.
Single Virtual Machine Mode
Fusion Pro can further reduce the cost of supporting Windows desktops with single virtual machine mode, which limits user access to the Virtual Machine library, eliminates the ability to create new virtual machines, and reduces menu options. If you are running an IT department and need mass deployment options, this is the best option on the Mac.
Features:
State of the Art Desktop Virtualization for Mac
Fusion Pro's leading edge features help you tackle complex tasks on your Mac by letting you run applications on many operating systems, including Windows and Linux, at the same time on the same Mac without rebooting. Evaluate new operating systems and test software applications, patches or reference architectures in an isolated and safe environment that is also compatible with VMware vSphere. Fusion Pro even integrates with VMware vCloud Air, the cloud service by VMware, bringing even more cloud management capabilities to the Mac desktop.
Create Powerful Virtual Machines
With the ability to allocate multiple processor cores, gigabytes of main memory or graphics memory to each virtual machine, Fusion Pro maximizes your Mac's resources to run the most demanding applications in a virtual environment. Whether developing software, testing new operating systems or running powerful 3D applications like AutoCad or SolidWorks, Fusion Pro can do it all.
There's a Reason it's Called Fusion "Pro"
Fusion Pro takes virtualization on the Mac to the next level with professional features designed to help users save precious time and effort on a variety of tasks. Added cloud support for VMware vCloud Air and VMware vSphere allows you to bring the power of the enterprise hybrid cloud to your Mac. With the ability to create linked clones to save disk space, set up custom IPv4 and IPv6 networking configurations with the network editor or connect to vSphere to create, run, upload or download a virtual machine, Fusion Pro is the ultimate tool for today's technical professionals.
From Your Mac to the Cloud
Use Fusion Pro to connect to VMware vCloud Air, the public cloud service by VMware, to securely manage and download cloud workloads, or run an entire cloud environment directly on your Mac, all from within VMware Fusion Pro. Leverage the cloud to share virtual machines with anyone in your organization for tests, analysis or demonstrations. Fusion Pro can also connect to, create and run virtual machines hosted on VMware vSphere. Download virtual machines from VMware vSphere and turn them into local Fusion Pro virtual machines or upload local virtual machines to vSphere directly from Fusion Pro.
Take Control of Your Virtual Machines
Fusion Pro gives technical professionals powerful control over how to set up and interact with virtual machines. Choose from a wide variety of options when installing, protecting, connecting, sharing and viewing virtual machines. You can even create virtual machines that are encrypted, require a change of password or expire at a predefined date and time. Leverage the Snapshot feature to preserve the state of a virtual machine so you can return to it at any time.
VMware Fusion is Designed for Advanced Users
With the ability to assign 64GB of memory, 16 virtual processors and 2GB of graphics memory per virtual machine, Fusion Pro delivers leading edge features for running Windows on a Mac. And, with innovative tools such as linked clones, virtual network editor with IPv6 support, and connectivity to vSphere or vCloud Air clouds, Fusion Pro is the perfect tool for advanced users on the Mac.
Use Cases:
VMware Fusion is designed for every kind of Mac user. IT pros, developers and businesses choose VMware Fusion Pro for its broad OS support, rock-solid stability and advanced features simply not available in a non-virtualized environment.
System Requirements:
Hardware
All Macs launched in 2011 or later are supported except:
2012 Mac Pro "Quad Core" using the Intel® Xeon® W3565 Processor.
In addition the following are also supported:
2010 Mac Pro "Six Core", "Eight Core" and "Twelve Core".
Software
macOS 10.12 Sierra or later
Metal Host Graphics Rendering Engine:
Hardware
MacBook (early 2015)
MacBook Air (mid 2012 or newer)
MacBook Pro (mid 2012 or newer)
Mac Mini (late 2012 or newer)
iMac (late 2012 or newer)
Mac Pro (late 2013 and newer)
Software
See Apple's documentation regarding Metal supported Macs:  https://support.apple.com/en-us/HT205073
Compare:
Fusion or Fusion Pro - Choose the Right Version for You
Fusion
Fusion Pro
General
Create and run multiple operating systems as VMs
Create Large VMs (16 CPU, 64GB RAM)
New App Menu
Customizable Touch Bar Support
Multiple Snapshots
Convert PC into a virtual machine
macOS Integration
Host/guest file sharing
Shared/Mirrored Folders
Run VM with Different View Modes
Unity View Mode
3D graphics with DX10.1 and OpenGL 3.3 support
Device Support
Runs on the Latest macOS
High Resolution 4K/5K/Retina Display Support
Virtual Trusted Platform Module Device
UEFI + Secure Boot Support
Virtual NVMe Device
Support a Wide Range of Virtual Devices
USB Smart Card Reader Support
Works with Assistive Devices (Section 508 Compliant)
Multi-language Keyboard Support
Operating System Support
Support for Windows 10 VM
Support for macOS Mojave Host and Guest
Over 200 Supported OSs (Linux, older Windows, BSD)
Run BootCamp as VM
Import/Convert BootCamp into VM
Advanced Features
Fusion REST API
One-Click SSH to Linux VM
Command Line Operation: vmrun and VIX
3rdParty Integrations
Create Linked Clones
Create Full Clones
Customizable Advanced Networking
Secure VM Encryption
Connect to vSphere/ESXi Server
Improved vSphere Remote View
Virtual Network Customization (NAT, network rename)
Virutal Network Simulation (Packet Loss, Latency, Bandwidth)
Support:
Complimentary Support
Email installation support for VMware Fusion and VMware Fusion Pro is valid for 18 months from product registration. Submit support requests either online or via phone; responses are targeted within one business day.
Per Incident Support
Purchase support as you need it for VMware Fusion and VMware Fusion Pro. Individual incident support is conveniently sold in 1, 3 or 5 incident packs. Submit support requests either online or via phone; responses are targeted within one business day.
Basic Support
With a minimum quantity of 10 VMware Fusion Pro licenses, VMware Basic Support provides access to our global support centers, 12 hours a day, 5 days a week, including unlimited support requests and subscription services for 1 or 3 year periods.
Production Support
With a minimum quantity of 10 VMware Fusion Pro licenses, VMware Production Support provides access to our global support centers, 24 hours a day, 7 days a week for Severity 1 issues, including unlimited support requests and subscription services for 1 or 3 year periods.
Support FAQs
| Support Eligibility | VMware Fusion | VMware Fusion Pro |
| --- | --- | --- |
| Complimentary email support for up to 18 months from product registration | | |
| Eligible for Per Incident Support | | |
| Eligible for Basic or Production Support (Minimum of 10 licenses required) | | |
When does complimentary support start?
Complimentary support starts when your VMware Fusion license is registered. Registration takes place automatically if you purchase your product from the VMware Online store. If you purchased from a reseller, you need to register your license in My VMware. Please consult this KB article for detailed instructions on license key registration.
How long does complimentary support last?
Complimentary support for VMware Fusion and VMware Fusion Pro is valid for 18 months from product registration.
Can I use a support incident for different versions of Fusion, for example versions 7 and 8?
Yes, you can purchase support incidents and open a support request for any product version that is still officially supported by VMware.
What is the support period for VMware Fusion?
VMware Fusion follows the Personal Desktop lifecycle policy.
What type of technical support help can I get if I am evaluating VMware Fusion?
Evaluation users can get help through the VMware Fusion Community. Evaluation users are not eligible for complimentary email support.
Are there any free Fusion support resources available from VMware?
VMware provides several self-help and community supported resources including:
Knowledge Base – troubleshooting information
Community Forum – users can share their information and experiences with others (registration required)
User Groups (VMUGs) – live, local gatherings of VMware users
Customers are also eligible for complimentary installation support for up to 18 months following product registration.
Pricing Notes:
Pricing and product availability subject to change without notice.
Customers Please Note:VMware Fusion requires a business email address. 3rd party email service providers are not valid for VMware Fusion licenses. Examples of email addresses NOT accepted: @yahoo.com, @gmail.com, @msn.com. Please contact us for more information regarding VMware Fuison licensing. If you provide a 3rd party email address your order will not be processed.
VMware Products
VMware Fusion Pro
VMware Fusion 11 Pro
#FUS11-PRO-C
Our Price: $159.99
VMware Fusion Pro Support/Subscription
Basic Support/Subscription VMware Fusion 11 Pro for 1 year
#FUS-PRO-G-SSS-C
Our Price: $34.00
Basic Support/Subscription VMware Fusion 11 Pro for 3 years
#FUS-PRO-3G-SSS-C
Our Price: $110.88
Production Support/Subscription VMware Fusion 11 Pro for 1 year
#FUS-PRO-P-SSS-C
Our Price: $40.00
Production Support/Subscription VMware Fusion 11 Pro for 3 years
#FUS-PRO-3P-SSS-C
Our Price: $132.00
VMware Fusion Per Incident
VMware Fusion Per Incident Support - Phone + E-mail 1 incident/year
#FUS-SUP-1PAK
Our Price: $29.99
VMware Fusion Per Incident Support - Phone + E-mail 3 incidents/year
#FUS-SUP-3PAK
Our Price: $79.99
VMware Fusion Per Incident Support - Phone + E-mail 5 incidents/year
#FUS-SUP-5PAK
Our Price: $121.99