vRealize Cloud Management
Intelligent Hybrid and Multi Cloud Management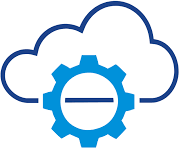 Enable consistent deployment and operations of your apps, infrastructure, and platform services, from the data center to the cloud to the edge.
Accelerate innovation, gain operational excellence, and improve control while mitigating risk so you can make cloud your business. Available both on premises and SaaS and comes in several packages to meet the unique requirements of your private, hybrid or multiple public clouds.
Improve Control
Lower risks and ensure greater control with unified operations and governance.
Gain Operational Excellence
Improve visibility and automation across clouds with vRealize Cloud Management, available on-premises or as a service.
Accelerate Innovation
Unlock business agility and opportunities for innovation with quick and easy access to infrastructure and application services.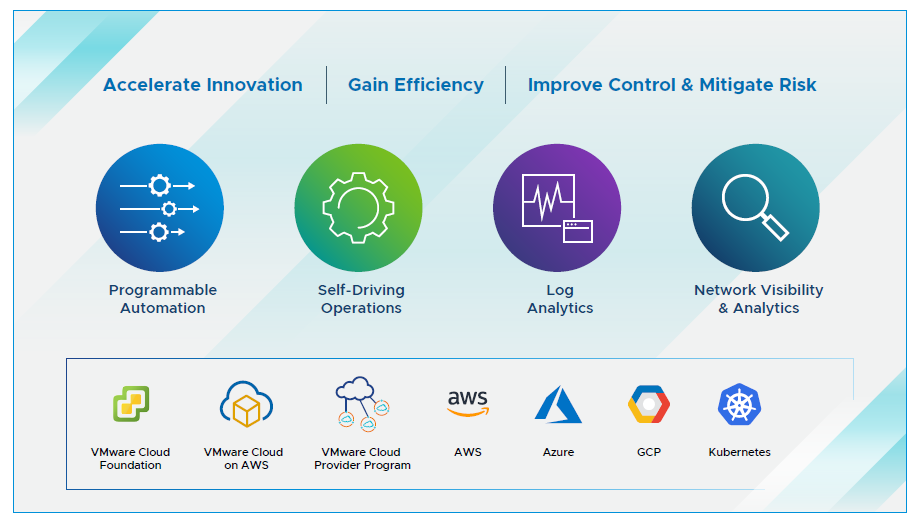 Modernize IT
Operate like a public cloud and speed up service delivery with self-service provisioning, automated performance and responsive capacity management.
Automate infrastructure provisioning by enforcing a repeatable, consistent and reliable process with Infrastructure as Code and configuration management.
Continuously optimize app performance with AI-driven automated workload optimization.
Reduce downtime, improve efficiency, gain end-to-end visibility, and manage risk.
Accelerate Cloud Evolution
Accelerate hybrid and multi-cloud innovation with consistent operations across clouds
Confidently migrate applications with a full view of component dependencies, network requirements, and security posture
Choose the most cost-effective deployment environment across private and public clouds and gain visibility across all business-critical apps no matter where they live
Consistently deploy applications to any endpoint and ensure ongoing compliance with your security policies
Assure Developer Productivity
Deliver developer-ready infrastructure by providing an agile and modern developer environment.
Provide developer platform services while assuring availability and performance.
Streamline the developer experience to speed time to deployment with Infrastructure as Code and configuration automation
Match the agility and scalability developers need by incorporating best practices from the DevSecOps world to traditional IT processes
What is VMware vRealize Cloud Management?
VMware vRealize Cloud Management is an intelligent hybrid cloud management solution that enables you to consistently deploy and operate your apps, infrastructure, and platform services, from the data center to the cloud to the edge.
What products are included in VMware vRealize Cloud Management?
The VMware products within the Cloud Management portfolio are:
VMware vRealize Automation and vRealize Automation Cloud
VMware vRealize Operations and vRealize Operations Cloud
VMware vRealize Log Insight and vRealize Log Insight Cloud
VMware vRealize Network Insight and vRealize Network Insight Cloud
Is there localized language support for international regions?
VMware vRealize Cloud Management supports language and regional format settings in French, Spanish, Korean, Simplified Chinese, Traditional Chinese, German, Japanese, and English
VMware vRealize Cloud Management is a solution that offers simple yet flexible options to consume VMware's software.
Single Service
Use this option to jump start your hybrid cloud experience
vRealize Cloud Universal
A SaaS management suite that combines automation, operations,
log analytics, and network visibility into one license.
vRealize Automation Cloud
vRealize Operations Cloud
vRealize Log Insight Cloud
vRealize Network Insight Cloud
VMware Product Support
vRealize AI Cloud
vRealize Cloud Subscription Manager
vRealize Cloud Federated Catalog
vRealize Cloud Federated Analytics
VMware Skyline integration
---