VMware vSphere Remote Office and Branch Office Standard

Extend the power of the industry-leading virtualization platform to your remote sites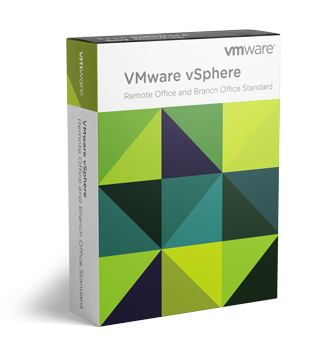 VMware Products
VMware vSphere 8
VMware vSphere Remote Office Branch Office Standard (25 VM pack)
#VS8-RBSTD25-C
Our Price: $3,085.00
VMware vSphere Remote Office Branch Office Advanced (25 VM pack)
#VS8-RBADV25-C
Our Price: $4,635.00
More pricing below, click here!
Overview:
vSphere Remote Office and Branch Office Standard
VMware vSphere® is the industry leading compute virtualization platform
vSphere has been rearchitected with native Kubernetes for application modernization. Developers can't afford infrastructure that slows them down – businesses rely on developers to rapidly develop and deploy applications to accelerate digital transformation. On the other hand, IT teams are challenged to deliver modern infrastructure that supports modern container-based application development, including the services and tools to build new applications.
vSphere provides an enterprise platform for both traditional applications as well as modern applications – so customers and partners can deliver a developer-ready infrastructure, scale without compromise and simplify operations.
Deliver Developer-ready Infrastructure: IT teams can use existing vSphere environments to set up an Enterprise-grade Kubernetes infrastructure at a rapid pace (within one hour), while enabling enterprise-class governance, reliability, and security. After this one-time setup, vSphere with Tanzu enables a simple, fast and self-service provisioning of Tanzu Kubernetes clusters within a few minutes1 . Aligning DevOps teams and IT teams is critical to the success of modern application development; to bring efficiency, scale and security to Kubernetes deployments and operations. vSphere with Tanzu brings agile cloud operations to the IT admin to enable this transition into the role of Cloud Admin or SRE by delivering agility in day to day IT operations related to Kubernetes infrastructure.
Scale Without Compromise: vSphere can scale your infrastructure to meet the demands of highperformance applications and memory intensive databases including SAP HANA and Epic Caché Operational Database to name a few. With vSphere 7, a vSphere cluster can now support 50% more hosts compared to previous releases.
Simplify Operations: Simplified operations are delivered through key capabilities of vSphere including elastic AI/ML infrastructure for sharing resources, simplified lifecycle management and intrinsic security across your hybrid cloud infrastructure.
Secure Data with Encryption
vSphere ROBO Enterprise secures data at remote locations through its unique VM-level Encryption capability designed to give users a greater degree of control to protect data against unauthorized access. Since encryption occurs at a hypervisor level, it is VM agnostic i.e. works with any VM and guest-OS. It is a great tool to ensure consistent security across thousands of remote locations.
Efficient Server Maintenance
vSphere ROBO makes it easier to perform maintenance on remote hosts with Distributed Resource Scheduler (DRS) in Maintenance Mode. It automatically moves VMs out of a server when server goes offline for maintenance and brings the VMs back to server after maintenance. The maintenance can be done remotely from a central IT location.
Live Migration of Workloads
vSphere vMotion allows you to move an entire running virtual machine from one physical server to another, without downtime. The virtual machine retains its network identity and connections, ensuring a seamless migration process. Transfer the virtual machine's active memory and precise execution state over a high-speed network, allowing the virtual machine to switch from running on the source vSphere host to the destination vSphere host. This entire process takes less than two seconds on a gigabit Ethernet network. This capability is possible over virtual Switches, vCenter Servers, and even long distances.
Protect VM and Data
vSphere Data Protection provides agent-less, image-level virtual machine backups to disk. It also provides application-aware protection for business-critical Microsoft applications (Exchange, SQL Server, SharePoint) along with WAN-efficient, encrypted backup data replication. Features include variable-length deduplication, application-aware backups, single step recovery and direct-to-host emergency restores.
Ensure System Uptime
Minimize downtime with uniform, cost-effective failover protection against hardware and operating system outages within your virtualized environment with vSphere High Availability (HA). Monitor hosts and virtual machines and automatically restart virtual machines on other hosts in the cluster when an outage is detected. HA provides uniform, automated protection for all applications without modifications to the application or guest operating system.
Share Data Center Resources
vSphere Content Library enables administrators to manage VM templates, vApps, ISO images and scripts from a central location. Organize the content into libraries, which can be individually configured and managed. Once libraries are created, share content across the boundaries of vCenter Servers and ensure consistency across your data center. Deploy VM templates directly onto a host or cluster for a consistent provisioning experience.
Rapid Deployment and Provisioning
Host profiles, which store configuration settings shared by vSphere hosts, can be attached to one or more vSphere hosts or clusters. The host configuration is compared to the host profile and any deviations are reported so configuration drift can be corrected automatically. Administrators can create a profile once and then use it in conjunction with Auto Deploy to rapidly deploy and provision multiple vSphere hosts, eliminating the need for specialized scripts or manual configuration.
Key Benefits
Deliver Developer-Ready Infrastructure
Drop-in Enterprise grade Kubernetes to existing vSphere infrastructure within an hour
TKG service enables self-service provisioning of Kubernetes clusters within a few minutes and simplified operations of cloud native workloads
Application focused management allows IT admins to implement policy for namespaces, and manage access and quota allocation for developers
Scale Without Compromise
Industry leading Monster VMs scale up to 24TB and 768vCPUs
Increased cluster scale to support up to 96 hosts per cluster
Simplify Operations
vSphere Ideas® to capture customer feedback and feature requests
vCenter connect® to manage onpremises and off-premises (cloud providers) servers using a single interface
Features and Capabilities:
TKG Service2: Run the Tanzu Kubernetes Grid Service directly on vSphere to simplify operation of Kubernetes on-premises by putting cloud native constructs at the IT Admin's fingertips. TKG allows IT admins to manage consistent, compliant and conformant Kubernetes, while providing developers self-service access to infrastructure. vSphere with Tanzu enables a simple, fast and self-service provisioning of Tanzu Kubernetes clusters within a few minutes
Drop-in to Existing Infrastructure2: Quickly deploy Kubernetes workloads on existing infrastructure with enterprise-grade governance, reliability and security. Leverage existing networking infrastructure (or BYO networking) using vSphere Distributed Switch's (VDS) centralized interface to configure, monitor and administer switching access for VMs and Kubernetes workloads. Deploy existing block and file storage infrastructure (BYO storage) for containerized workloads. Choose your own L4 load balancing solution using HAProxy (commercial support offered directly by HAProxy) for Tanzu Kubernetes clusters.
Application focused management2: Kubernetes makes vSphere better by providing DevOps teams (Platform Operators and SREs) with self-service access to infrastructure through Kubernetes APIs. vSphere makes Kubernetes better by empowering IT admins to use vCenter Server skills/tools to operate modern applications, alongside VMs, using namespaces as a unit of management. This is referred to as 'application focused management'. Using application focused management, IT admins can use vCenter Server to observe and troubleshoot Tanzu Kubernetes clusters alongside VMs, implement role-based access and allocate capacity to developer teams.
Monster VMs: Deliver industry leading scale through Monster VMs designed for SAP HANA and Epic Cache Operational Database. Improve performance and scale for Monster VMs to support your large scale up environments. Scale up to 24TB memory and support up to 768 vCPUs through Monster VMs, leaving other hypervisor vendors far behind in the category. Speed-up the ESXi scheduler and co-scheduling logic for large VMs using selective latency sensitivity setting for workloads, removal of bottlenecks in vCPU sleep/wakeup paths and a reduced memory overhead.
Cluster scale enhancements: Expand the number of hosts per cluster by 50% to support a total of 96 hosts per cluster, compared to previous releases.
vLCM enhancements: Simplify software upgrades, patching and firmware updates for vSphere, vSAN and NSX-T with a single tool. vLCM will also monitor for desired image compliance continuously and enable simple remediation in the event of any compliance drift.
vSphere Ideas®: Submit feature requests right from the vSphere Client UI, track the status of the feature requests and look at all the other feature requests submitted by other users to vote for them, through the Ideas portal.
vCenter connect®: Manage on-premises and off-premises (cloud providers) vCenter Servers in a single interface using the any to any vCenter connect capability.
Compare:
VMware vSphere Remote Office Branch Office is designed specifically for IT infrastructure located in remote, distributed sites and delivers improved service levels, standardization, availability, compliance, and security.
vSphere Remote Office Branch Office editions enable rapid provisioning of servers through virtualization, minimization of host configuration drift, enhanced visibility into regulatory compliance, and advanced security features through VM Encryption, across multiple sites. In addition, with the business continuity features of vSphere, you can be assured of highly available IT infrastructure in your remote sites.
Product Features
vSPHERE REMOTE OFFICE BRANCH

OFFICE STANDARD

vSPHERE REMOTE OFFICE BRANCH

OFFICE ADVANCED

vSPHERE REMOTE OFFICE BRANCH

OFFICE ENTERPRISE

Overview

Remote site server virtualization platform with business continuity and backup features

Remote site server virtualization offering business continuity and backup with advanced features, such as standardization of host configurations

Remote site server virtualization offering business continuity and backup, standardization of host configurations, and data security through encryption

License

Entitlement

Pack of 25 virtual machines

Pack of 25 virtual machines

Pack of 25 virtual machines

vCenter Server

(sold separately)

vCenter Server Standard™

vCenter Server Standard

vCenter Server Standard

Features

ESXi™, vMotion®, Storage vMotion®, High Availability, Fault Tolerance (2-vCPU), vShield Endpoint™, vSphere Replication™, Hot Add, Content Library

ESXi, vMotion, Storage vMotion, High Availability, Fault Tolerance (4-vCPU), vShield Endpoint, vSphere Replication, Hot Add, Content Library, Host Profiles, Auto Deploy™, Distributed Switch™

ESXi, vMotion, Storage vMotion, High Availability, Fault Tolerance (4-vCPU), vShield Endpoint, vSphere Replication, Hot Add, Content Library, Host Profiles, Auto Deploy, Distributed Switch, DRS in maintenance mode, VM Encryption
Pricing Notes:
Pricing and product availability subject to change without notice.
VMware Products
VMware vSphere 8
VMware vSphere Remote Office Branch Office Standard (25 VM pack)
#VS8-RBSTD25-C
Our Price: $3,085.00
VMware vSphere Remote Office Branch Office Advanced (25 VM pack)
#VS8-RBADV25-C
Our Price: $4,635.00
VMware vSphere Remote Office Branch Standard Support and Subscription, 1 Year
VMware vSphere Remote Office Branch Standard (25 VM pack) Basic Support/Subscription for 1 year
#VS8-RBSTD25-G-SSS-C
Our Price: $648.00
VMware vSphere Remote Office Branch Standard (25 VM pack) Basic Support/Subscription for 3 years
#VS8-RBSTD25-3G-SSS-C
Our Price: $1,944.00
VMware vSphere Remote Office Branch Standard (25 VM pack) Production Support/Subscription for 1 year
#VS8-RBSTD25-P-SSS-C
Our Price: $771.00
VMware vSphere Remote Office Branch Standard (25 VM pack) Production Support/Subscription for 3 years
#VS8-RBSTD25-3P-SSS-C
Our Price: $2,313.00
VMware vSphere Remote Office Branch Advanced Support and Subscription, 1 Year
VMware vSphere Remote Office Branch Advanced (25 VM pack) Basic Support/Subscription for 1 year
#VS8-RBADV25-G-SSS-C
Our Price: $973.00
VMware vSphere Remote Office Branch Advanced (25 VM pack) Basic Support/Subscription for 3 years
#VS8-RBADV25-3G-SSS-C
Our Price: $2,919.00
VMware vSphere Remote Office Branch Advanced (25 VM pack) Production Support/Subscription for 1 year
#VS8-RBADV25-P-SSS-C
Our Price: $1,159.00
VMware vSphere Remote Office Branch Advanced (25 VM pack) Production Support/Subscription for 3 years
#VS8-RBADV25-3P-SSS-C
Our Price: $3,477.00
VMware vSphere 8 Remote Office Branch Office Standard Upgrade
Upgrade: VMware vSphere 8 Remote Office Branch Office Standard (25 VM pack) to Advanced (25VM Pack)
#VS8-RBSTD-ADV25-UG-C
Our Price: $1,705.00