vRealize True Visibility Suite
Extend VMware vRealize Operations Through vRealize True Visibility Suite

Expand analytics and management to the broader data center infrastructure and applications
For most data center operations teams, it's pretty hard to get a comprehensive view of what's going on in their IT ecosystem. Virtualization and cloud service abstractions have made cross-platform relationships between different layers of the IT stack more complex. Heterogeneous, hybrid environments are the norm. It's part of the reason IT pros find visibility to be one of the leading challenges facing operations teams.
VMware vRealize® True Visibility™ Suite extends VMware vRealize Operations™ to the broader heterogeneous data center, giving you actionable analytics and enterprisewide, unified visibility. Dozens of validated VMware management packs aggregate operations data from the leading server, storage, compute and database applications into vRealize Operations for rich analytics. This jointly certified coupling of VMware's leading analytics platform and the vRealize True Visibility Suite extensions gives you end-to-end, virtualization-aware visibility into all your resources, regardless of where they reside
Tear Down Silos
Monitor your heterogeneous environment with a unified data analytics platform and bring relationship-aware context to your hybrid cloud.
Enhanced Troubleshooting
Perform rapid root cause analysis with relationship-aware connections and identify the root cause of problems up to 50% faster.
Gain End-to-End Visibility
Deliver more value with a unified view from data center to applications and create a cohesive monitoring strategy.
Make better decisions with unified visibility
Make vRealize Operations your centralized data center operations monitoring platform. By adding vRealize True Visibility Suite, you'll get the industry's widest breadth of coverage across applications, database, virtualization/cloud, compute, network and storage, so you can:
Reduce cross-team friction by eliminating mean-time-to-identify (MTTI) hunts through, siloed infrastructure tools. vRealize True Visibility Suite customers can see up to a 50 percent reduction in time for root-cause analysis.
Clear up alert storms with built-in policies that disable alerts for your dev environment and other less-critical resources.
Increase tier 1 app availability by up to 50 percent by pinpointing problems faster and more accurately with dependency-aware dashboards.
Drill down to native-tool details to find noisy neighbors, bandwidth vampires and bad queries impacting virtual machine performance.
Maximize performance, minimize investment
Reduce the IT tools used, eliminate silos and boost IT productivity by up to 67 percent:
Deploy in minutes without additional services or expertise.
Maintain performance and reduce administration with agentless design.
vRealize True Visibility Suite is available in three editions: Standard, Advanced and Enterprise. These editions align with various infrastructure teams and offer a convenient way to pick the best edition for your organization, without being tethered to one vendor or device type.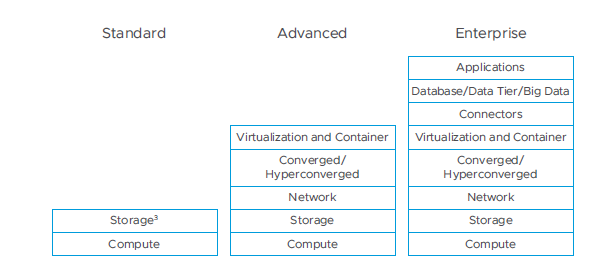 ---